Our Brands at Jungle Pillows
At Jungle Pillows, we are proud of all of the brands that we showcase in our store. Each artisan brand has their own story to tell and does their part to ensure that their products are crafted to the highest quality standards, with sustainability and ethical, handmade production close at heart. Here is the full list of all of the brands that we carry, including icons indicating specific brand values. 
VALUES KEY:
Eco-Friendly 
 Handmade   
 Social Good 
Women Owned  
Small Batch  
Fair Trade Cooperation
Organic 
Recycled Materials 
Supporting Children
Acacia Creations

Acacia Creations was founded in 2007 by Maura Kroh, a Pennsylvania-born entrepreneur with an addiction to travel and places unknown. Maura moved to Nairobi, Kenya at the age of 23 and soon found herself working in East Africa's refugee camps. Despite the wealth of talent, resourcefulness and determination in the camps, she saw that residents had few opportunities to earn a fair and dignified living. Maura saw a simple solution: create employment and generate income through the rich handcraft traditions already thriving in the camps. Acacia Creations was founded as a means to connect the skills of remote artisans with global consumers. With production headquarters in Kenya, Acacia Creations now works in 7 countries across Africa and Asia with a network that touches thousands of artisan partners. They go beyond fair trade by creating jobs, providing training, and giving back to communities through education and healthcare initiatives. 
Bloom & Give

For centuries, textile artists in India have been perfecting intricate techniques of dyeing, weaving and stitching. These rich traditions are the source of Bloom & Give's creative inspiration. They donate 10% of their sales to programs that send girls to school in rural India, as in this part of the world, education changes a girl's life and the lives of generations to come. Located in Dallas, Texas, Bloom & Give creates throw blankets, scarves, pillows, table linens, and more using hand-loomed cotton and natural wool.
Blossom Inspirations
  Blossom Inspirations was founded in 2009 with the idea of mutually benefiting everyone involved in the production and sale of their eco-friendly, fair trade products. They work directly with Peruvian and Mexican artisans, knowing them by name and visiting them at their homes and workshops. Their products are designed and produced to positively impact artisans, retailers, consumers and our environment alike. Blossom Inspiration creates high quality products that are sold at a price that ensures a living wage for the artisans and that encourage the protection and reinvestment into the environment. 
Caché District

Caché District is an online boutique offering luxurious 100% organic GOTS certified cotton linens. They are on a mission to bring an exclusive collection of pure, organic, luxurious cotton linens to the market that are affordably priced. At the beginning, Jana & Deepak, the founders of Caché District, began to research how organic cotton may be a better choice for cleaner living. However, they had a hard time finding organic cotton sheets at an affordable price, let alone made with appealing designs. Having identified a gap in the marketplace, Jana and Deepak partnered with their Chief Information Officer who had experience and contacts in the textile industry of India. The team of three then found the right fit in a supplier and decided to set up shop online, with a community focus in their hometown of Richmond, VA. To ensure the highest quality standards, they put their linens through rigorous testing by North Carolina State's College of Textile Materials Lab.  A portion of their earnings are donated to local causes as well as to veterans' causes. 
Convivial
Convivial is a production and design company that labors over the creation of simple, ethically made ceramic wares. The company began as a one-woman show wheel-throwing out of a home garage and today is made up of a group of incredibly talented artisans who bring each piece from dust to life in a design and manufacturing space located in the Historic West Bottoms of Kansas City. Their mission is to produce wares that inspire others toward a life of conviviality – the joining of people to eat, drink and be joyful in the company of one another.
Delilah Home
Delilah Home was named after a scared puppy who survived a life-threatening ordeal in the Carolina mountains. She weathered extreme cold temperatures and record winds by living off the land for 62 days. Around her, an entire community rallied for her return, watching, and searching until she was eventually reunited with her family. Sustainability, impact, community. Her story reflects the fundamental pillars of Delilah Home. The core values of Delilah Home weren't born out of a branding session, they are a part of who their founders are as humans and are at the heart of every decision they make. Based in Weddington, North Carolina, Delilah Home only uses quality 100% organic cotton certified to the Global Organic Textile Standard and natural hemp to ensure that their textiles do not contain allergenic or toxic chemicals commonly used in conventional cotton production. As a result, their products are ideal for people with allergies, skin sensitivity, and respiratory problems. Our skin is the largest human organ and is the body's first line of defense against Mother Nature's toughest elements and harmful chemicals in the environment. It's also full of nerves that connect us to the world around us. We feel it in every handshake and hug. You'll be glad your skin is wrapped in the luxury and comfort of Delilah home products.
Encantada

There's no sign to find the small family-owned ceramic workshop in the state of Guanajuato. Behind the large wooden gate, women artisans are hand painting un-fired ceramics while men work the kilns, as they have since the late 70's. Each piece has personality from the dots and swirls to the hand-painted logo on the bottom. And each is lead free, microwave and dishwasher safe.
Global Groove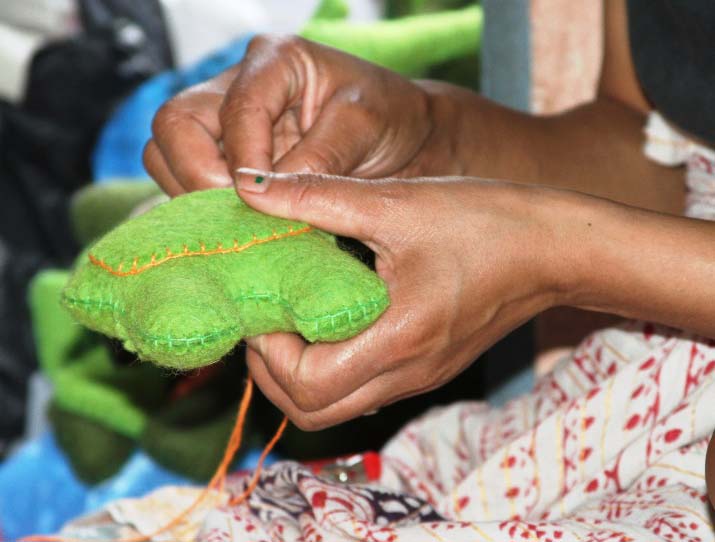 Global Groove is a fair trade organization working with women by supporting and developing artisan co-ops in Thailand and Nepal. The Fair Trade industry is expanding and we are proud to be a part of a sustainable movement that is changing lives. Global Groove designs, develops, produces and sources fairly traded lifestyle products with a commitment to the sustainability of production and the cultural heritage of the groups that they work with. They inhale its people, its landscapes, its colors, its flavors, its very scent, and they exhale to create inspirational products symbolic of our traveling experiences. Global Groove encourages travel because the knowledge, acceptance and understanding of different ways, people and ideas is the very colorful road to a respectful, safer, kinder world.
Hip-o Modern Living
Hip-o Modern Living is a woman-owned company based in Ashland, Oregon whose goal is to bring products to market that have as little impact as possible on the environment, while improving the lives of the artisans who produce them. They are very proud to offer beautifully crafted wood items that not only support the community that handcrafts them, but are sourced completely from wood that would otherwise be destroyed.
 Holy Lamb Organics
Holy Lamb Organics is a small company making exceptional natural bedding by hand near Olympia, WA. They specialize in bedding basics including pillows, comforters & toppers for infants through adults. They combine organic cotton fabric and American Premium Eco-Wool, which paired with their sustainability practices, bring you the best bedding with a light footprint. Holy Lamb Organics creates green jobs in rural Washington State and is a woman-owned business. Committed to zero waste practices, they up-cycle their scraps and refrain from adding plastic to the product stream. They are a scent-free facility, excluding scents and chemicals to preserve the purity of their luxury natural materials.
Jedando Handicrafts

Working with more than 100 individual carvers in Machakos, Kenya, Jedando Modern Handicrafts markets African handicrafts primarily made of wood and bone worldwide. Carving is a tradition in Kenya with the children learning the craft from their parents. Carved by hand using only rudimentary hand tools, olive wood bowls, salad serving sets, and animal-shaped napkin rings take shape from pieces of olive wood, mahogany, and mpingo, or "African Ebony". An integral part of the organization's function is to educate the craftspeople on the need for reforestation to enable the products to be available for years to come and offer a sustainable income for generations. While wood carving provides the major income for many in the Machakos area, other craftspeople earn a living by further enhancing the products including painting the napkin rings and carving discarded animal bone for the handles of salad serving sets. Often the bone is "batiked" by placing wax on the white bone and dipping the bone a dark brown/black dye, resulting in patterns African mud cloth designs.
Kindred Kid & Baby
Kindred Kid & Baby is a new social impact company launched in July 2019 that creates certified organic cotton kids bedding in rad designs for taste-maker moms. All of their crib sheets are made with GOTS-certified organic cotton and are hand-loomed and block-printed by their fair-trade partner in India using AZO-free dyes. Kindred's mission is to offer moms a choice for simple, modern designs that create an inspired space for kids, without compromising values. Their bedding is designed in Portland, Oregon and hand block-printed by fair trade artisans in India, which results in beautiful, fun, and solidly unique patterns printed on the softest organic bedding. Responsibly made, organic bedding in modern designs means that moms can sleep easy AND elevate their nursery design. Kindred was founded by Portland mom-of-two Hope Lobkowicz, who runs her business honoring the principle that supporting traditional artisan practices drives economic well-being. She uses simple, modern designs to create an inspired space for creative and imaginative kids (and a calm place for moms). She believes that intentional and responsible choices about where to shop truly impact the lives of others and our planet.
Living Threads Co.
Based in Golden, Colorado, Amanda Zehner founded Living Threads Co. with a mission to do good through small business, supporting artisans while directly connecting consumers with the women and men who weave. Through her work in the non-profit sector over the past 10 years, Amanda has been privileged to learn from and develop relationships with the amazing people that make up what is today our Living Threads Co. Amanda not only fell in love with the vibrant textiles that these groups create, but also with their stories, culture and the opportunity to empower them through the support of their work and businesses. Their textiles are dyed using only natural plants found in the regions where the artisans live and work. Today Amanda travels the world building and sustaining relationships through partnerships, training, micro-credit, and investments in the Living Threads Co. community.
Matr Boomie

Matr Boomie is a fair trade collection from India that marries modern design sensibility with inspiring traditional art forms, bringing people and cultures closer together. With the mission of creating opportunities for women and minorities to realize their creative, economic and leadership potential. They have grown to empower 20,000 artisans in 40 partner communities throughout India.
Mayta Collection
 Mayta Collection is a boutique ethical fashion label located in Chicago, Illinois that is inspired by a love of travel, culture, and weaving traditions. Founder and designer Maggie O'Reilly travels frequently and has connected with many artisans on her journeys. Mayta Collection's line of fashion accessories and home goods is unique, colorful, and most importantly, high quality. Each item in their collection is one of a kind. They aim to inspire each of us to express our own individual style while supporting ethical production.
Middle Kingdom
Middle Kingdom wares are inspired by a long and distinguished history of design and craftsmanship in Chinese porcelain, but they contribute a fresh and invigorating style to the genre. Bo Jia and Alison Alten established the Middle Kingdom kiln in 1998 to broaden porcelain traditions for a modern audience. New works of imperial caliber are now available for everyone.
Mira Fair Trade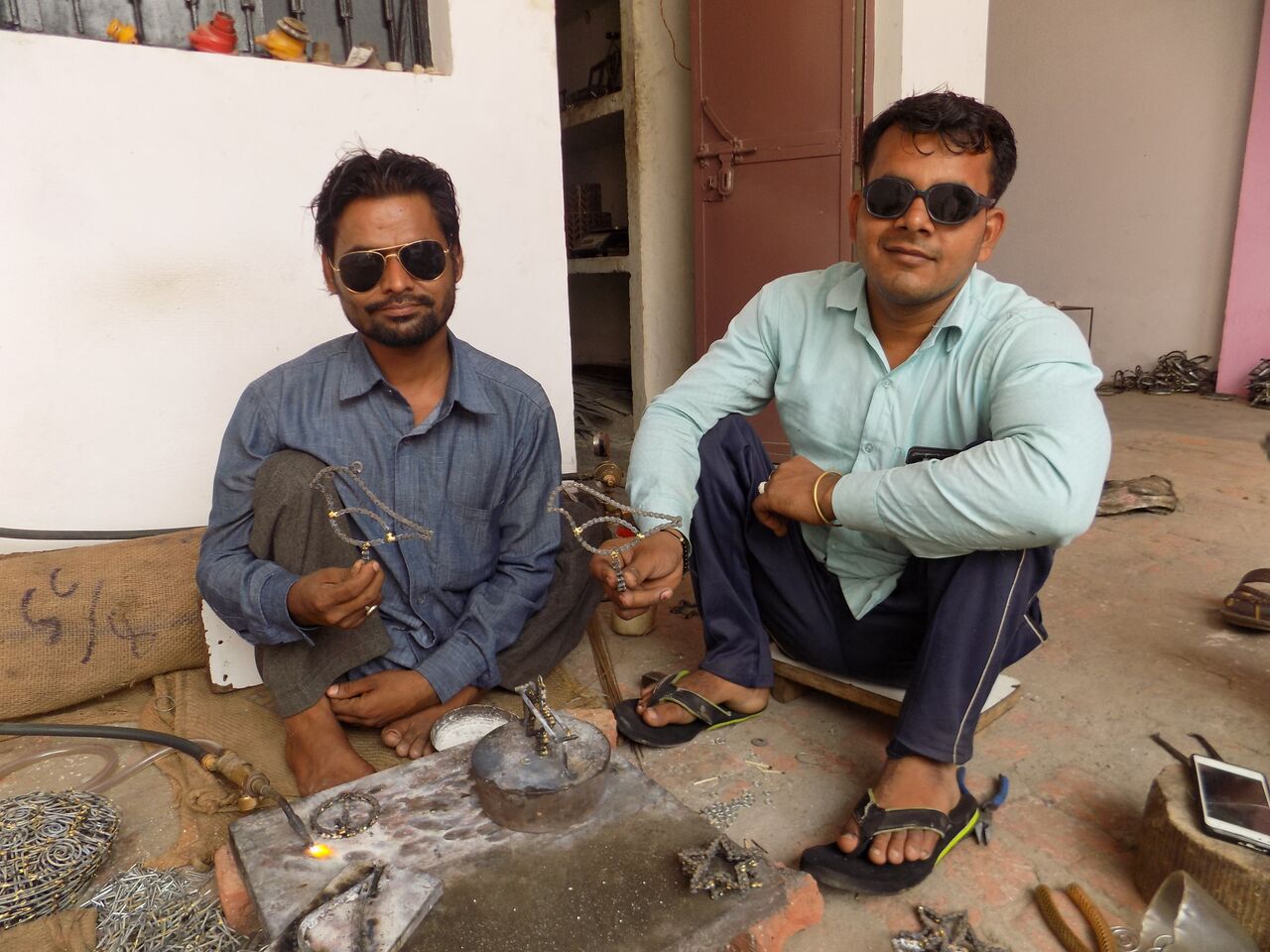 Mira Fair Trade strives to promote social justice by working directly with underprivileged artisans by paying them fair wages to help them develop the knowledge to support themselves and their families. They are committed to empowering women and underprivileged communities, and moving towards a global Fair Trade lifestyle through the promotion of the Fair Trade Principles.
Our Green House
Based in Newtown, Connecticut, owners Pam and Mike Davis sought out safe and healthy alternatives to use in their own home as they began having children. Together they discovered new products, learned about the benefits of natural living, and felt compelled to share these discoveries with others. Balancing work and family has always been the main focus, not only for them – but for their team as well. Encouraged to work from home, employees easily adapt their work schedules to the needs of their own families.
Rustic Loom
Rustic Loom is a women-owned textile design studio based in Brooklyn, NY. Their purpose is to make modern textiles for the global good. They team with non-profit organizations and small workshops in Ghana and India to pay fair wages and aim to foster a sustainable livelihood for the artisans who make their collections. 
Silk Road Bazaar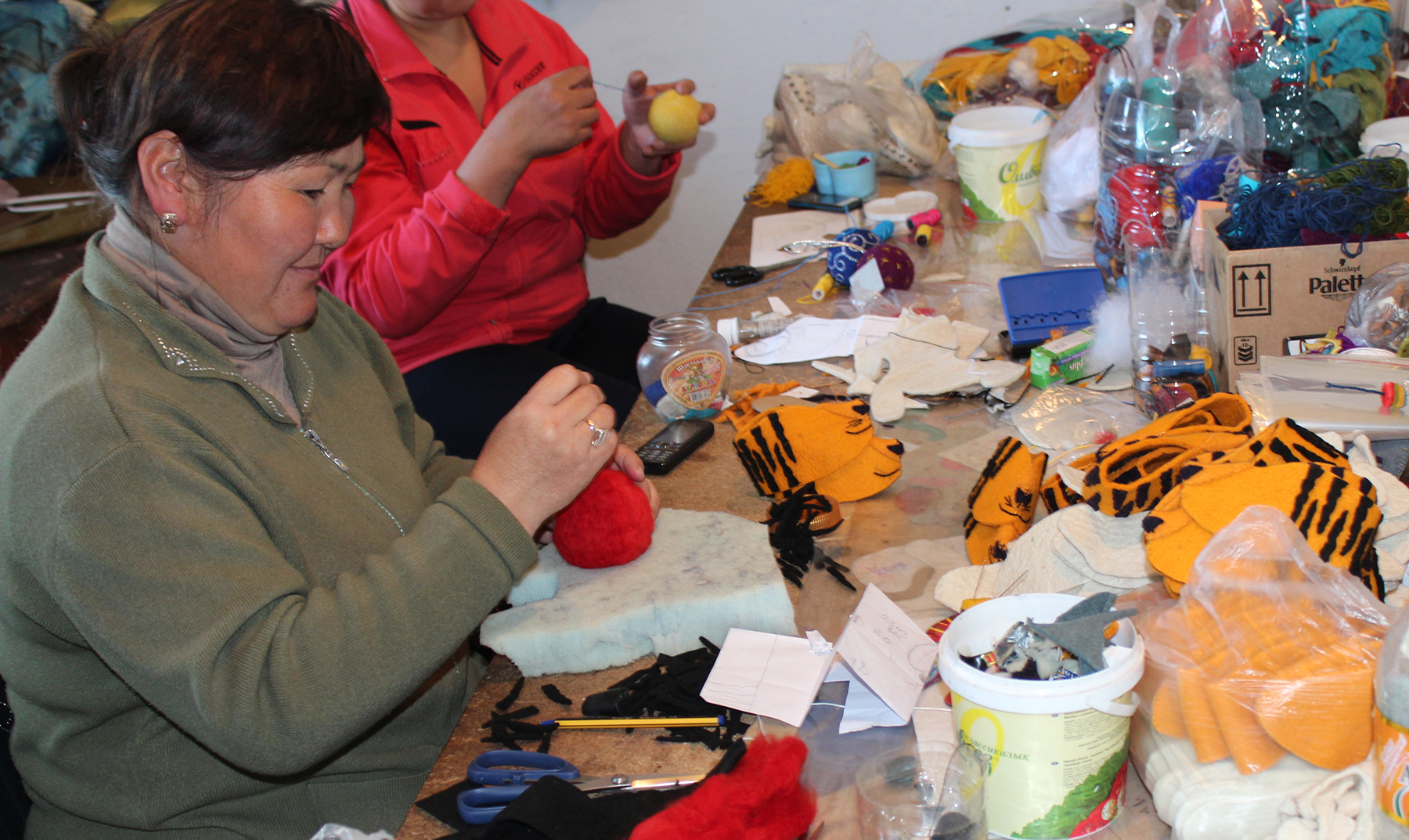 Silk Road Bazaar is a wholesale representative of marginalized artist groups located in Kyrgyzstan and throughout Central Asia. They connect with artists who are far from the capitals, who have limited market access, or who do not possess modern marketable skills but have carried on traditional craft culture. Following the proverb, "the best way to know a man is to walk a thousand miles in his shoes," Silk Road believes that to know who we are working with and to understand their lives, we ourselves need to live like and with them. They live among their artist groups for an extended period of time, and during that time they help them become self-sustainable by developing their designs, management techniques, quality control and computer skills. 
Slate + Salt
 SLATE + SALT is a mission based brand providing a worldwide customer base for artisanal treasures found in rural, impoverished villages around the world. We support the Fair Trade movement and work closely with Fair Trade organizations to facilitate dignified working opportunities in areas of extreme poverty. All of our products are artisan handmade using traditional techniques. We specialize in cashmere scarves and throws hand-loomed in Nepal by disabled weavers, Turkish towels from a cooperative in Turkey and jewelry created from recycled bomb remnants originating in Laos and Cambodia.
SMOLArt
The soapstone by SMOLArt is carved by a group of artists who live in the rural village of Tabaka, Kenya, the heart of soapstone crafts. Their name, a shortened version of Small, Medium, and Large Artists, refers to the size of the soapstone products the artisans make, not their stature. Established in 1990, SMOLArt is a member of the World Fair Trade Organization, and as such assures that their artisans are paid a fair price for their work. In addition, SMOLArt supports community development by contributing to projects that improve living conditions, education, and health of their members and the village at large. 
The soapstone they use in their sculptures is mined from great pits in the area surrounding Kiisi, Kenya. The mined soapstone is then delivered to carvers who carve sculptures from the natural stone, the color of which includes cream, pink, brown, yellow, black, or a marbled mix. Once carved, the craftspeople smooth the rough edges of the soapstone with sandpaper dipped in water and polish the piece to a high gloss or paint African motifs in brilliant colors with etched accents. All of SMOLArt's soapstone products are completely handmade.
Sunkissed
Based in Columbus, Ohio, Sunkissed is a lifestyle brand that currently puts its main focus on durable elegant beach blankets (traditional Turkish towels with a twist) that are sand resistant, absorbent, fast-drying and very stylish. The company has a large number of followers due to its social purpose of empowering women by employing single moms and supporting the movement and by supporting the sea life and the coral reef preservation. Sunkissed considers its beach blankets among the best on the market due to their ethical production and multi-purpose uses. Their blankets and towels are great for many indoor and outdoor activities such as beach/pool days, traveling, yoga, picnics, hiking and more.
Swahili African Modern
Over 20 years ago, the founder of Swahili African Modern walked Nairobi's vibrant city markets and fell in love with East African crafts and the men and women who create them. During the past two decades, Swahili African Modern has helped that love blossom into an extended family of creative artisans across Africa. Since their earliest days in Kenya, they have expanded their network of artisans to Tanzania, Ethiopia, Malawi, Mozambique, South Africa, Zambia, Zimbabwe, Uganda, South Sudan, Mali, Nigeria, Ghana, Burkina Faso, and Senegal. Swahili African Modern believes that adaptation helps traditional African craft forms thrive. They allow artisans to earn a living from the comfort of home by doing creative work, so they have an option beyond seeking work in the big cities. Through export, skills inherited through generations with deep-rooted cultural significance continue to bring meaning, stability, and a sense of pride to entire communities. All of Swahili African Modern's products are handmade and fair trade certified.
Tonga Textiles

Founded by Zimbabwean-born artist, Jeremiah Makaza, this family-run business has rapidly grown into a leading international exporter of Zimbabwean-made Sadza Batiks. Set in the heart of Tynwald Industrial Park in Harare, Zimbabwe, Tonga Textiles is comprised of a dedicated team of artisans. "Through art, we believe we can make a positive difference in society" is the motto of Tonga Textiles. Tonga Textiles employs both men and women in the community. Through their training program, the artisans are empowered to work for themselves, thus alleviating poverty within the community. Tonga Textiles is a fair-trade company. Their values of sustainability practices, quality and teamwork are at the heart of all their work. Over the years, their products have evolved into contemporary pieces, showcasing the true essence of an African lifestyle. The process is all hand-made and monitored to the very last detail.
Trendy Baby Mocc Shop
Charlene Aguilar founded Trendy Baby Mocc Shop as a way to express her passion for creating things for others to enjoy. What started as a small hobby to make some extra income as a school teacher turned into a small business, run out of her home. Trendy Baby Mocc Shop is located in Nampa, Idaho and provides financial support to all of the women who use their talents to help this business grow.
Wild Woolies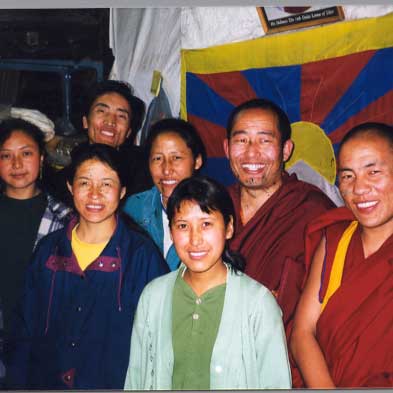 Walking into the Kathmandu production center's reception you are immediately greeted by a cheerful "Namaste" ('I Salute the God Within You'). In the production halls, dozens of women press felt into a variety of shapes, while others stitch, needle and applique to finish hundreds of different styles of decorative items for export. Sheep's wool is hand felted using warm, mildly soapy water, and is then molded into shapes, cut, and sewn together in any way imaginable. Because the felting and most of the stitching process is done by hand with natural materials that are sustainably harvested, hand felted products have a soft impact on the environment. Exports of felted products from Nepal have grown exponentially since around 2000, benefiting thousands of mostly women workers, production managers and family businesses who help support their families and educate their children with their earnings.